Perspective Type Family—

A Culturally-Conscious Arabic Typeface




The Arabic script is used in various countries and multiple languages such as Farsi (Persian), Dari, Kurdish, Urdu, Pashto, as well as Arabic. However, compared to Arabic, little or no research has been done examining the evolution and anatomical study of Urdu, Pashto, and Farsi in relation to, or separate from Arabic religious manuscripts and the Quran.
One can argue that some calligraphic styles and the cultural contexts around them have influenced the core structure of historic lettering, yet have been overlooked in the study and design of modern typefaces for Arabic script.
Aesthetic characters of this typeface are drawn from the languages of each region and their historical context to determine suitable styles that are inspired by each region and country's cultural history. The original characters of Perspective did not organically emerge from the Arabic alphabet. They were however extracted from a Latin typeface, History, designed by Peter Bil'ak.
Project M—


Iranian stamps from Monarchies and Mullahs to Mardom This study explores the collective identity and official culture of the Islamic Republic of Iran as it has been promoted through the official postage stamps released by the government between 1979 and 2019.

This collection has been divided and studied in detail based on identified thematic categories. Each category is then explored concerning the most important events and individuals that have influenced the country's collective identity and cultural history not included in the official stamps.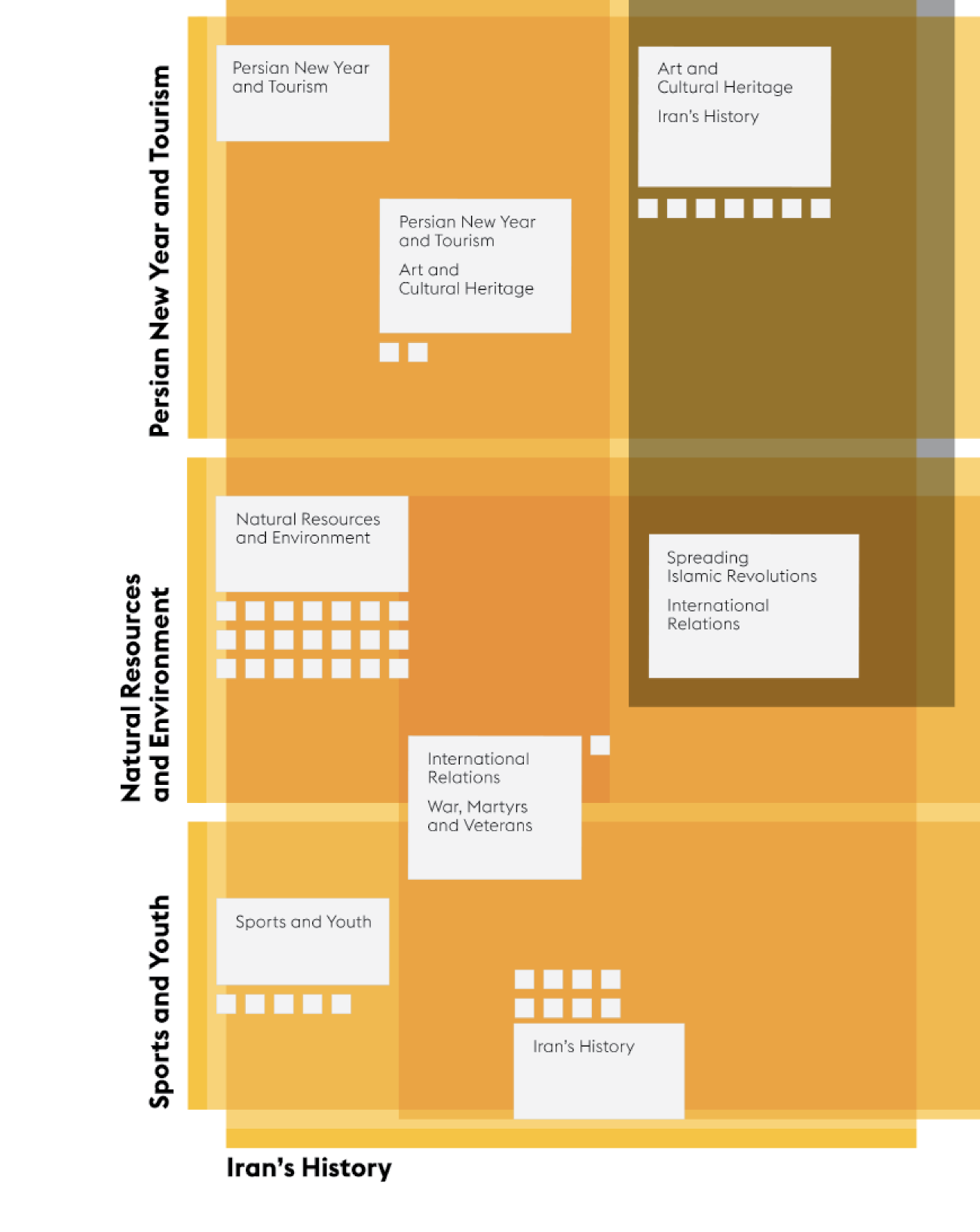 Investigating visual iconography of Iranian stamps

Overarching themes are:
1. kings' portraits and Khomeini's picture;
2. Lion and Sun symbol and Allah icon;
3. The naming of the country; international relations;
4. Women's representation—or lack thereof;
5. Persian civilization and cultural heritage;
6. Modernization and urban development;
7. Untold histories and neglected events.
Additional animation by Dan Castro.
Project M—


Iranian stamps from Monarchies and Mullahs to Mardom

"What if your only resource for learning about a country was a complete archive of its postage stamps? How accurately would this collection show the country's history, culture and the collective identity of its people?

For Iranians who left their homes around the 1979 Islamic revolution and couldn't go back, the stamps on the letters they received from their families in Iran became a window to the life in Iran. At the same time, and throughout history, Iran's governments used stamps to impose an identity on the people inside the country, as well as broadcast it abroad as a collective image. This identity has always been biased and culturally insensitive.
Identity—I'm inspired by Édouard Glissant's perspective on it: '…neither the person's identity, nor a collective identity, are fixed and established once and for all. I can change through exchange with the other without losing or deluding my sense of self.'

By expanding Iran's stamp archive and representing the fluidity of its collective identity I aim to shed light on the untold sides of history that influence Iran's cultural history.


Think about it: if you had a chance to rewrite history, wouldn't you take it?

Book Test Unit
Book Test Unit is an experimental initiated by Dr. Teal Triggs and Robert Hetherrington at the School of Communication at Royal College of Art culminated in an exhibition in 2017.
The projects and series of experiences explore various critical perspectives on the future of the book and publishing. Interrogating the role of the book, the reader, and the library, we aimed to investigate the notion of 'the book' and 'publishing.'
Project and workshop developed in collaboration with Hajone Cerato, which led to an ongoing investigation in my pedagogical practice.