Project M—


Iranian stamps from Monarchies and Mullahs to Mardom
This diagram shows an analytical and methodical interrogation of a complete collection of official Iranian postage stamps by Islamic Republic of Iran since 1979 to 2018.
In order to provide an overview of the regime's general policies, and since all these stamps are produced in the past 40 years by the Islamic Republic, in this diagram the chronological distinction has been disregarded. Further studies of post-revolution Iranian stamps are carried out separately, which concentrate on the chronology and quantity of stamps printed by every cabinet and their relation to socio-political situation of the time.
As a result, 16 categories were identified which are unique to the socio-political circumstances of Iran and cover the subjects of every stamp. Each rectangle represents one subject that can be repeated multiple times on several stamps.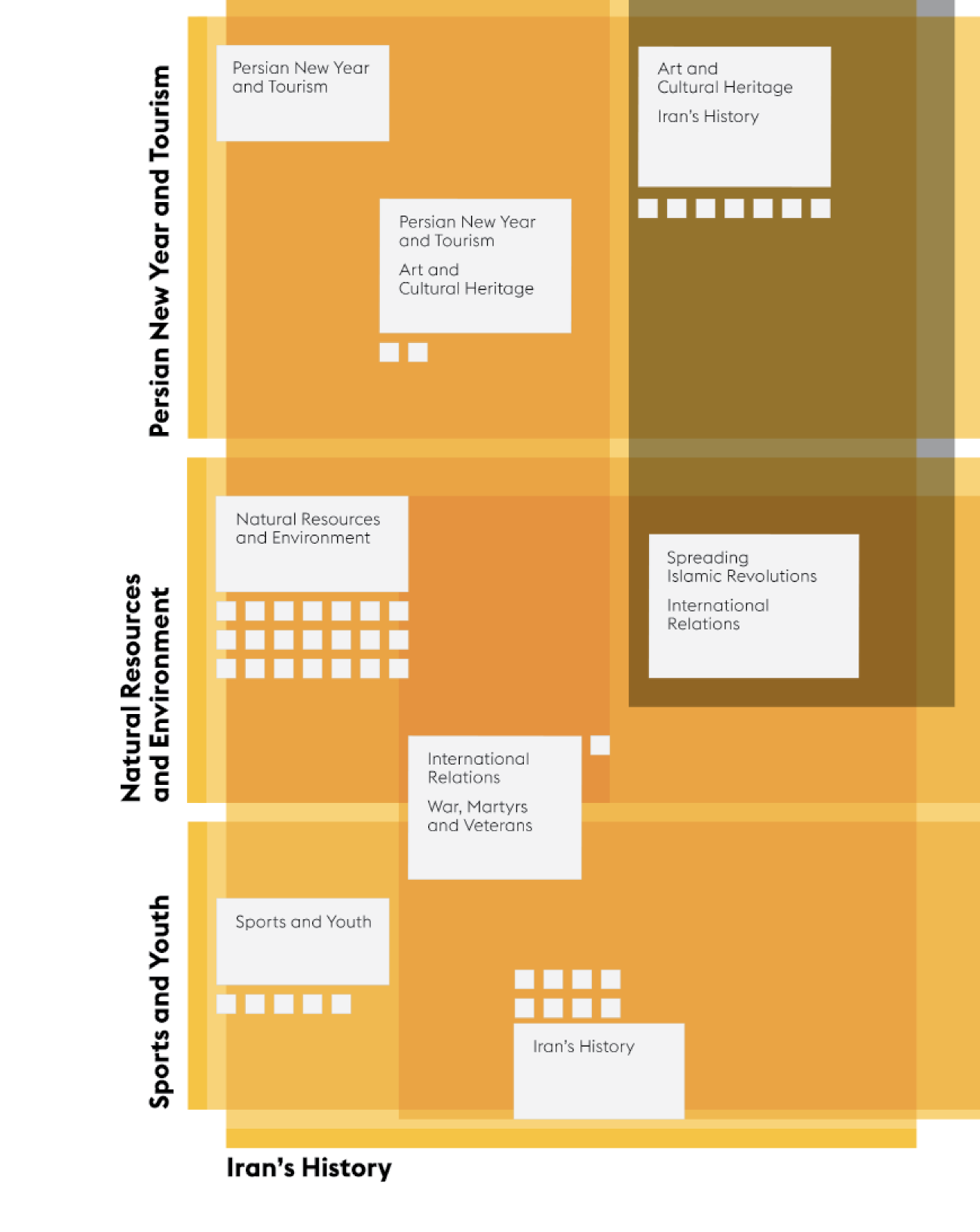 If a subject is shared between two categories,both are written in the rectangle and the quantity of repetition is shown with smaller squares next to it. For instance, several stamps fall under only three subjects covered by "Persian New Year and Tourism" and "Art and Cultural Heritage;" therefore they are shown with a large rectangle and two squares and located on the diagram according to the two over-arching themes.
The categories, or themes range from "Islamic Revolution and Revolutionary Acts" to "Sports and Youth." Areas covered by each theme is colored on the map. Overlay of colors makes the shared domains appear darker. Any theme related to Islam and Islamic ideologies promoted by the government are shown in black and every thing else is yellow/orange.